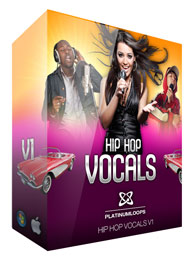 From modifying the groove of a drum loop to producing cool granular artifacts, the ability to time stretch samples is invaluable.  It's one of Ableton's most interesting tools for manipulating audio.
Today we'll use Time Stretching to mangle a vocal sample.  In particular, we'll be working with a sample from Hip Hop Vocals V1.
Take a listen to our vocal:
Audio clip: Adobe Flash Player (version 9 or above) is required to play this audio clip. Download the latest version here. You also need to have JavaScript enabled in your browser.
Here's what it will sound like when we're finished:
Audio clip: Adobe Flash Player (version 9 or above) is required to play this audio clip. Download the latest version here. You also need to have JavaScript enabled in your browser.
Step 1 – Load in your vox sample.
Step 2 – Pull up your Sample Editor.
Make sure your Warp tab is highlighted.
Set your Segment BPM to 392.
Step 3 – Choose your warping type.
Texture works well for what we're trying to accomplish here.
Step 4 – Set your Grain Size and Flux.
Grain Size determines the length of the granular artifacts produced.  Tweak the Grain Size to your liking.  For larger artifacts set a higher Grain Size, and vice-verse.
Flux inserts randomness into the equation.  The higher your Flux value, the more your artifacts will vary in size and therefore rhythm.
Step 5 – Add a transposition.
Adding an increasing pitch transposition works well with time stretching.
Pull up your Envelope editor and draw in a pitch envelope.
Audio clip: Adobe Flash Player (version 9 or above) is required to play this audio clip. Download the latest version here. You also need to have JavaScript enabled in your browser.
Summary
Insert an effect like this before a sick Dubstep drop and your listeners will go bananas!  You could take the effect even further by incorporating some Autopan or Stereo Delay.  Reversing the sample after stretching it will yield some interesting results as well.