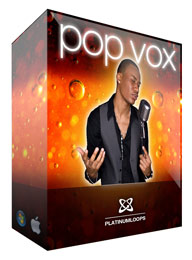 Logic Pro's Vocoder is a useful tool.  In addition to creating cool vocoded synth sounds, you can also vocode your vocal samples to give them added character when necessary.  Setting up the vocoder to work with vocal samples can seem a bit confusing if you haven't done it before, so let's walk through the process.
Take a listen to our finished vocoded example:
Audio clip: Adobe Flash Player (version 9 or above) is required to play this audio clip. Download the latest version here. You also need to have JavaScript enabled in your browser.
If you need some vocal samples, then be sure to check out Pop Vox.  It's filled to the brim with pristine vocal samples.
Step 1 – Import your vocal sample.
Step 2 – Create an instrument track and pull up a Vocoder.
In order for your vocoder to receive information from your vocal sample, you'll need to select your vocal track from the side-chain menu.
Step 3 – Program in a MIDI clip.
Create a melodic progression of MIDI notes for your vocoder to read.  We chose to play some simple chords.
Step 4 – Mute the volume of your vocal track.
Muting the output of your vocal track will ensure that only the vocoder will play.  If you want to combine the two, you can leave your audio track active.
Step 5 – Tweak your Vocoder.
We started with the preset Open Heaven and tweaked it to our liking.
We increased the range to capture more of the frequency spectrum and turned up our Resonance.
Lastly, we removed the white noise.
Audio clip: Adobe Flash Player (version 9 or above) is required to play this audio clip. Download the latest version here. You also need to have JavaScript enabled in your browser.
Summary
It's important to note that if you plan on starting with the default Vocoder setting you'll need to set it to voice in order for it to work with vocals.
Experiment with different settings and presets to get a feel for how the Vocoder works in Logic. The presets for working with vocals are decent, but a little bit of tweaking can go a long way.
We hope you found this tutorial useful!  Be sure to visit Loop Galaxy for all of your sampling needs.